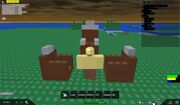 The Throne Room is a single 'Tool' and when placed is a special set of furniture consisting of a usable throne and two smaller chairs. It has no real purpose other than as furnishing and for roleplay.
This recipe is similar to that of other furnishings.
The recipe is as follows:
Two 'Plank'.
Two 'Steel'.
Ad blocker interference detected!
Wikia is a free-to-use site that makes money from advertising. We have a modified experience for viewers using ad blockers

Wikia is not accessible if you've made further modifications. Remove the custom ad blocker rule(s) and the page will load as expected.